Tag Archives:
swimming pool builder in Georgia
Prepare For Your New Pool and Swim By Summer
1. Build Your "Dream Pool" Pin Board.
Follow Rachel Cook's board Our Pools and Spa's on Pinterest.
Help us know what you're looking for, start a "Dream Pool" board on Pinterest. Invite us to your Pinterest board using our email address – myaquafun@gmail.com.
2. Decide between a Gunite, Fiberglass or Vinyl Inground Pool.
Gunite Pool is the strongest of the three choices, and also the longest lasting.
Read a comparison of the three pool types, pool liners and surface finish choices.
3. Have a clear sense of purpose.
Ask yourself why you're installing a swimming pool. Do you want to exercise more? Are there small children in your family who love to swim and you want to create more family time? Want to increase the value of your home? Are you a naturalist and want a Salt Water Pool instead of a chlorinated pool? Whatever the reason, knowing your purpose will help us make it the dream pool you have been wanting.
4. Decide what kind of pool shape you want.
Once you have established how you will be using your swimming pool, it will be easier to decide the shape. Rectangular designs provide a timeless, classic look and are great for swimming laps and playing pool games. If you prefer a natural looking pool, then a kidney or free-form shaped inground pool can blend with the landscaping and be a great choice for you.
5. Focus on the details.
Pick Recreational Add-On(s), Water Features and Underwater Illumination to complete your dream swimming pool design. 2015 Swimming Pool Trends include but are not limited to Custom Entry's, In-Water Benches and Table, Tanning Ledge, Grotto and Swim Up Bar, Diving Board, Water Slide, Splash Pad, Exquisite Waterfalls, Bubbling Fountains and massaging jets.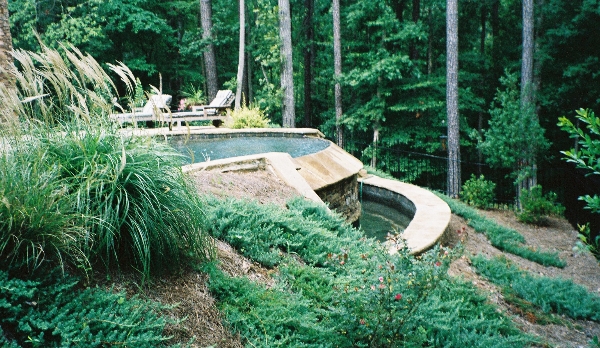 Do you want to add a spa to the pool design? Not sure if it is in your budget? Be sure to ask the professionals at Aqua Fun, our team of experienced designers can help you come up with the best plan for your dream pool!
6. Keep safety in mind.
Do you want a pool alarm? If you have small children around you may want to consider it. Child-proof locks on gates, and security alarms on windows to the backyard are also considerations. Safety Covers will add that extra barrier of protection you may want. Aqua Fun is all about safety first and with that added security you can have peace of mind knowing your family is safe around the pool.
7. Plan your pool party!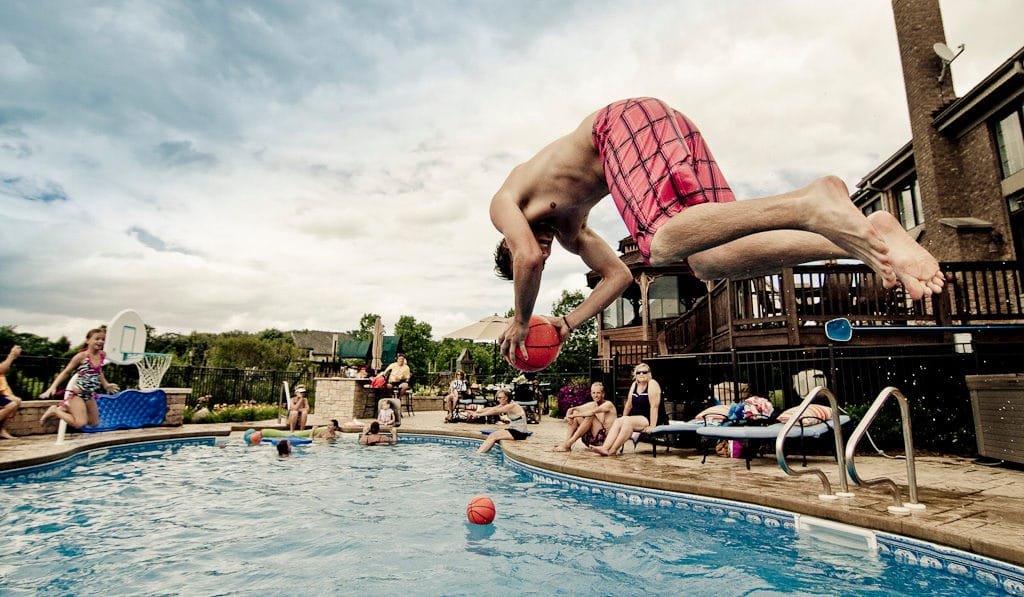 Be sure to check out our Poolside Treats board on Pinterest for an awesome menu to celebrate your new pool.
Follow Rachel Cook's board Poolside Treats on Pinterest.
All of us here at Aqua Fun Inc would like to thank you for reading our blog! If you know anyone who would like to know more about your new pool construction, then be sure to share this article. Get a jump on financing your dream pool here.
Aqua Fun Inc. offers 7 Ways To Prepare For Your New Pool Construction So You Can Swim By Summer, call (770) 419-7119.
Thank you,
Rachel and Andrew Cook
Owners of Aqua Fun Inc
Aqua Fun is always staying up on the popular swimming pool design trends and 2015 is looking better than ever!
There is an upswing in new pool construction and contemporary pool design & remodel. With that comes beautiful, functional new ideas to share. Many of the same designs that were hot in 2014 are also going to be hot in 2015. There are a couple of newer trends making their march to greatness and possibly into your new inground swimming pool design we will share as well. It's all about personal style and more choices when making the plans to turn your own backyard into an island oasis. Our team of professionals can help you do it all.
2015 Swimming Pool Design Trends
Exercise Pools and Hot Spa's
Take care of those muscles in a smaller pool design with a built-in spa. Also called lap pools, strengthen your body with a new inground swimming pool made for exercising, then relax your muscles and mind in your built-in spa. There are different types of exercise pools. A true exercise pool has a resistance jet at one end of the pool that generates a current much like a small wave. The resistance jet allows you to swim in place without actually going from end to end of the pool. Then there is a lap pool with a long and narrow design. An exercise pool or lap pool has become more popular in recent years and the outlook keeps exercise pools trending as a top contender. Certainly as more and more homeowners find themselves in a home without extra room in their backyard space or pocket-book,  small exercise pools are perfect for these kinds of challenges.
Natural pools and Salt Water Pools
We wrote a blog about Salt Water pools and suggest reading that for more in-depth discussion on what we think about Salt Water pools. We'll be writing more about Natural pools in future blog posts however the best way to describe a Natural Inground Swimming Pool is to take a more natural focus when designing the look and feel of the pool. We join the pool design into the natural terrain of the landscape. Sure we can take the Natural Pool to whole new level beyond what we have described here, however, for clarity, we prefer designing the pool in a natural looking state with Salt Water.
Geometric Shapes and Water Features Overflow
Geometric pools are making a come back and that is partly because of the new features a builder can add. Things like incorporating the lighting with water and using the extra space for custom pool built-ins like sloping entries, seating, waterfalls, swim-up bars and sun-tanning ledges. The elegant visual display of overflow water cascading over the ledges, waterfalls, or water fountains and underwater illumination can bring your backyard retreat to a whole new magical realm. Rectangular, square, round, oval, octagonal and L-shaped pools were in great demand in 2014. The geometric inground pool shape generally fits traditional backyard spaces better than many of the more complicated designs and continues to be a popular trend in 2015.
Alternative Finishes
Beauty and durability are the strong points of this popular trend. Whether you are building a new inground swimming pool or are looking to re-model your current inground pool, alternative finishes are great choices to modernize and glamorize your pool! Aggregate Finishes with Pebble Tec and Pebble Sheen have been steadily moving up in popularity and are a big part of Aqua Fun's pool designs. Glass tiles are becoming more desirable than ceramic and porcelain tiles, partially because they are durable and are resistant to powerful chemicals used to keep the pool clean and maintained. Glass tiles come in various sizes, shapes and colors, used inside or around the pool / spa leaving a shimmer glow reflecting the water in the pool or on edges.
Digital Pool
We will be writing an entire blogpost about digitizing your inground swimming pool. These days you can command your outdoor environment with your iPhone or Smartphone. Use your phone to control lights, pool & spa temperature, pumps, water features, pool cleaners including security cameras and landscape irrigation.
Stay tuned for articles about these latest trends. Let Aqua Fun Inc. be your pool design specialist with Popular Swimming Pool Design Trends in 2015. Give us a call and schedule a free consultation – (770) 419-7119.
Thank you,
Rachel & Andrew Cook
It's your choice
We say it's your choice because there are arguments supporting both viewpoints. If you are fine with your current chlorinated pool and don't feel the need to make a change, then don't. It's true that a salt water generator is a little more money in the beginning, but you save money with the salt generator over time. Unless you have health or "green" reasons to change, may be you will be compelled to leave things status quo. These are all personal preferences or necessities only you can decide. Aqua Fun helps you decide by offering a little more background on  salt water pools.
Reasons to consider a salt water generator:
First of all, you would not use regular table salt in your salt water pool. According to the Salt Institute, it's best on your system to use only high purity solar or evaporated salt that has been specifically designed for salt water pools. Many of the lower-cost, generic salts sold for pool use contain a host of contaminants that can affect water clarity and cause staining, scale, and overall water balance issues.
Salt Water Swimming Pools:
save you money over time because the cost of salt is far less than chlorine and you use less salt than chlorine
save you time because you will be spending less time maintaining your pool and more time swimming in it
saves your clothing and hair from bleaching out
more good stuff…
no green hair
no red eyes
no burning skin
Salt has healing characteristics such as:
All Natural Stress Relief –  salt water reduces inflamed  joints and muscles, leaving your body feeling relaxed and stress-free. Salt water has the mineral bromide which helps in relieving muscle pains and soreness.
Beautiful Skin – salt water will leave your skin feeling smooth and supple as it increases moisture retention. It will rejuvenate the skin by detoxifying it and promotes cellular regeneration. Your skin is the largest organ in your body and when it feels renewed, your whole body automatically feels revitalized and healthy, according to EHow.com.
No Allergies – Asthma sufferers don't react negatively in salt water pools like they do to the heavy packaged chlorinated water.
TIDBIT: Over 80% of all pools in Australia are salt water and that's where salt water pools began in the 1960's. It took longer to become viable in the U.S., but by the year 2007, salt water pools accounted for nearly three-quarters of new pool installations, up from about 15 percent in 2002. There are about 1.3 million salt water pools in the U.S. today. (Sources: P.K. Data; Pool & Spa News 3/30/08)
Celebrity's  Jessica Alba and Courtney Cox talked about their salt water pools in separate interviews  which lends to the realization that this once trend would finally reach the masses. These two celebrity interviews show the concern many people have with the environment and their family's personal health.  If either of those issues are important to you then it seems natural to use salt over harsh packaged chemicals.
What are some of the con's of salt water pools before you make the change?
Initially it will cost more to upgrade or build a salt water pool but long-term (and that is what a swimming pool offers, long-term benefits) the salt water pool saves you money, time and energy.
Salt is corrosive, especially if  total Alkalinity and pH are not balanced correctly and maintained properly.
Salt pools generate chlorine for sanitation, so the pool is not chlorine chemical free.
Salt pools get their chlorine residual by means of "chlorine generators" (electrolysis devices) that use electricity to produce chlorine from salt (sodium chloride) dissolved in the pool water. Chlorine in the water—whether added this way or by EPA-registered pool sanitizer–destroys many common waterborne pathogens within seconds, helping to keep swimming healthy. Without pool water sanitizers, swimmers are vulnerable to contracting diarrhea, swimmer's ear and skin infections. (Water Quality and Health Council)
Maintenance is still a necessary task for pool owners, but it just got easier!
HealthyPools.org is offering a set of free strips that will measure your pools PH level. Just click the link to get your Free Test Strips and see where you stand in the region you live: http://www.healthypools.org/freeteststrips/
If you would like to convert your current chlorine based swimming pool to a salt water pool, Aqua Fun Inc. is your salt water pool specialist in North Georgia. Are you planning a new swimming pool build? Let Aqua Fun Inc. consult you and show you the best options for your new swimming pool. Call today to schedule your no obligation consultation (770) 419-7119 or schedule your appointment online here.
Follow us on facebook for more Aqua Fun news and specials.