Aqua Fun's most popular pool installation
Back to In-ground Pools       Pool Comparison
Ultra Seam – Only with Kafko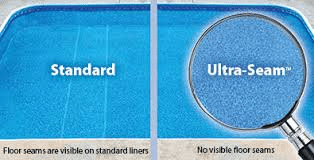 Patent Pending – Kafko is the only manufacturer offering this revolutionary breakthrough in Vinyl Liners – "The strongest seams you'll never see!" And there is no one who you can trust more to install your new Ultra Seam Vinyl Liner than Andy Cook. Andy has been with Kafko since 1987 and Kafko recommends Andy to install your new Vinyl Liner Pool and Liner Replacement!
The Advantages of Building a Vinyl Pool:
1. Less expensive to build compared to Fiberglass and Gunite
2. Easy to maintain due to the non-porous surface
3. Easy on the feet
*With a Vinyl Pool you can add swimouts, Salt System, Waterfalls, and other great custom features!
Please call us or schedule your no obligation consultation about your vinyl pool installation or vinyl pool liner replacement – (770) 419-7119
5 SUPERMAX Liners – 30Mil Material at 20Mil Pricing!!
*
20 Years – Manufacturer Warranty

– Best Warranty in the Business!! 

-The first 5 years being a complete warranty covering manufacturer defects and labor, followed by 15 prorated years.
 Vinyl Gallery
Step and Bench Options with Vinyl Pools:
(Click on Link to see Fiberglass Step Options for Vinyl Pools)