Monthly Archives:
October 2013
Get your dream inground pool built!
Most people think building a swimming pool is best during the Spring season, however our busiest time of the year is during that time frame. We build quality inground pools year round. Why wait for Spring? Don't you want to swim in your new dream pool when the weather turns warmer instead of watching the new pool construction? Be like Clark Griswold and surprise the family with a dream pool this holiday season!
Call us today for your Free Estimate – (770) 419-7119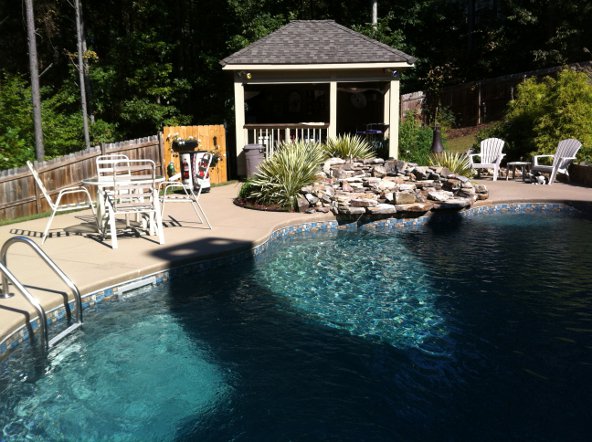 Aqua Fun Safety Pool Cover Specialists
It's that time of the year again. Time to get your pool ready for Winter and that means covering your pool. Aqua Fun wants to make your family safer, that's why use only the strongest mesh and solid Safety Pool Covers. Prevent any chance of your family or pets accidentally getting past an unsafe cover. We are pool safety experts!
Safety is the #1 concern
but when you don't want your pool looking like this:
Choose one of our strong Safety Covers
Our Safety covers are designed to keep out:
standing water
leaves, branches and the odor that comes along with it
insects and mosquitoes
Not only that, but you won't have to worry about handling those awkward  water bags and tarps. Besides, who wants to drain and clean that?
When you call Aqua Fun to install or replace your Safety Cover, you can rest assured that there will be less work when you are ready to open your pool again. Why?
Safety Covers help to:
keep the sunlight out reducing algae spread

keep debris out of pool
lessen the chemicals needed for maintenance
Call us for a free quote (770) 419-7119 or schedule your appointment here. Still want to know more?
You have options.
Choose the best color to match your backyard oasis. We offer several color choices.
Do you have an oval, kidney or custom shaped swimming pool?
No problem. Even if your pool design includes raised walls, stairs, rails, diving board or water features we can create a custom cover to make any pool beautiful but most of all safe!
Keep having fun all Winter! Don't worry about your child or family pet accidentally falling in the pool with proper installation. Your children and pets are kept  safe and protected so you can rest your mind.
Did we mention a warranty? Depending on which cover you choose, we have you covered!
Let us professionally install your Safety Cover to make sure proper installation. Call us for a free quote (770) 419-7119 or schedule your appointment here.