Best Inground Pool Size & Shape
Tips from Aqua Fun Swimming Pools & Spa's
How do you know if you are choosing the right pool for your budget, needs and yard?
Ask yourself these questions:
What is the purpose of getting a pool?
What is your budget?
How much space do you have to build a pool?
Purpose for swimming pool?
Are you adding a pool to your backyard for the purpose of daily exercise? Or are you planning to entertain a large family and/or group of friends? Do you enjoy playing classic pool games with your family?  If the purpose is exercise then a lap pool may work, those tend to be rectangular in size. You can opt for a sports pool which is great size and shape for an afternoon Volleyball game and tend to be shallow on each end and deeper in middle and can extend past a rectangle shape looking more like an "L".
On the other hand if you are building your new dream inground pool mainly for entertainment purposes you may want a free-form or kidney shaped pool with a spill-over spa and tanning ledges. The choice is yours and together with our experienced designers and builders, you will have the pool of your dreams!
How much pool can you afford?
Depending on your budget, you have choices. The first place to start is looking at the price difference between a vinyl pool, fiberglass pool or gunite pool. With any of the three choices, there are always pool maintenance costs associated with it so you want to equate that into your choices as well. For example, Vinyl Pools do require vinyl pool liner replacements over time, and the fun thing about replacing the vinyl liner is that you can give your pool a make-over.
If you want to make your neighbors jealous, think about going with a gunite pool upgrading  to a  Pebble-Tec finish. Just like with anything, details matter and the details can increase the cost. For example, adding glass pool tiles may cost more than just adding standard pool tiles, but the reward is magical! Imagine these glass tiles glistening in the sun and reflecting off the water.
How is your Backyard Space?
Do you have a small space with a sloping backyard? If you do then that will affect the layout of your pool. There are creative ways to maximize even the smallest yard. If your backyard is a wide open space you have more choices in size and shape and our team at Aqua Fun work with preferred quality construction builder partners who can work in conjunction with us to make any backyard more functional and as beautiful as you want. With larger backyards you can add backyard kitchens and fireplaces to compliment the pool decking and theme.
Here are some different pool shape and size choices to consider:
Geometric Shapes – circles, ovals, rectangles, square
Free form, Kidney, Figure 8, Lazy L, Greek & Roman shaped pools
Exercise – lap pool, sport pool
All of us here at Aqua Fun Inc would like to thank you for reading our blog! If you know anyone who would like to to know more about Tips For Picking Best Inground Pool Size And Shape, then be sure to share this article and schedule your consultation here.
Thank you,
Rachel and Andrew Cook
Owners of Aqua Fun Inc.
If you have questions or comments about Tips For Picking Best Inground Pool Size And Shape, leave comments below:
[contact-form to='myaquafun@gmail.com' subject='QUESTION: Tips For Picking Best Inground Pool Size And Shape'][contact-field label='Name' type='name' required='1'/][contact-field label='Email' type='email' required='1'/][contact-field label='Comment' type='textarea' required='1'/][/contact-form]
Pets And Pools, Is It Safe For Our Pet & Inground Pool?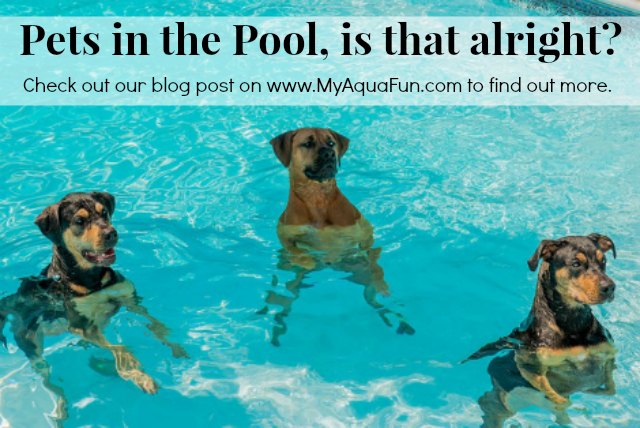 Our team at Aqua Fun pools know that it's difficult to keep the dog out of the inground swimming pool. After all, our pets think they are human, and part of the family. If we are swimming, they are swimming. Kudos to those of you who have managed to train your canine furry friend not to jump in the pool.
We're sure you've wondered if swimming in the pool was safe for your pooch? And was it safe for the pools mechanics? Those are both great questions and we will certainly offer some facts which may help the next time Fido does a belly flop into the pool.
Is it bad for the animal?
Generally speaking, it's not bad for humans and it's not bad for dogs either. Salt water pools are usually less chemically toxic for humans and animals but there are still safety concerns with salt water pools which chlorine pools do not have, of which we will discuss. According to Bridgemill Pets of Canton," the largest risk with a pool for any animal is drowning of course as they can panic too, especially if they do not know how to get out of the pool. However, the AKC has an article stating the amount of chlorine in pools is no more harmful to pets as it is to humans". According to Bridgemill Pets some other things to watch out for includes excess water indigestion, "in fact drinking from the pool should definitely be discouraged especially if it's a salt water pool. Also drinking from the pool can irritate your dogs eyes and nose sensitivities; cause ear infections, especially from floppy eared dogs and can dry out the skin."
Be sure to rinse pets off with the hose after a day of swimming.
Is it rough on the pool and it's mechanics?
It can add more stress on the mechanics for sure but there are preventive measures you can take to lessen the stress on your pool mechanics. If hair gets clogged in the filters or baskets, it could be a big problem so be proactive and check the filters and baskets for hair build up which could clog the system.
Take delight in these Pets in the Pool pics we have on our Pinterest Board:
If you like those funny animal pics, be sure to follow us on Pinterest!
All of us here at Aqua Fun Inc would like to thank you for reading our blog! If you know anyone who are concerned about Pet's in the Pool, then be sure to share this article and schedule your consultation here. Did you read our last blog about The Best Christmas Present is A New Pool? Check it out here.
Thank you,
Rachel and Andrew Cook
Owners of Aqua Fun Inc
Call today! (770) 419-7119
If you have any questions or comments about Pets And Pools or If It Safe For Our Pet And Inground Swimming Pool, leave it below:
[contact-form to='myaquafun@gmail.com' subject='I have questions about Pets in the Pool'][contact-field label='Name' type='name' required='1'/][contact-field label='Email' type='email' required='1'/][contact-field label='Comment' type='textarea' required='1'/][/contact-form]
It's your choice
We say it's your choice because there are arguments supporting both viewpoints. If you are fine with your current chlorinated pool and don't feel the need to make a change, then don't. It's true that a salt water generator is a little more money in the beginning, but you save money with the salt generator over time. Unless you have health or "green" reasons to change, may be you will be compelled to leave things status quo. These are all personal preferences or necessities only you can decide. Aqua Fun helps you decide by offering a little more background on  salt water pools.
Reasons to consider a salt water generator:
First of all, you would not use regular table salt in your salt water pool. According to the Salt Institute, it's best on your system to use only high purity solar or evaporated salt that has been specifically designed for salt water pools. Many of the lower-cost, generic salts sold for pool use contain a host of contaminants that can affect water clarity and cause staining, scale, and overall water balance issues.
Salt Water Swimming Pools:
save you money over time because the cost of salt is far less than chlorine and you use less salt than chlorine
save you time because you will be spending less time maintaining your pool and more time swimming in it
saves your clothing and hair from bleaching out
more good stuff…
no green hair
no red eyes
no burning skin
Salt has healing characteristics such as:
All Natural Stress Relief –  salt water reduces inflamed  joints and muscles, leaving your body feeling relaxed and stress-free. Salt water has the mineral bromide which helps in relieving muscle pains and soreness.
Beautiful Skin – salt water will leave your skin feeling smooth and supple as it increases moisture retention. It will rejuvenate the skin by detoxifying it and promotes cellular regeneration. Your skin is the largest organ in your body and when it feels renewed, your whole body automatically feels revitalized and healthy, according to EHow.com.
No Allergies – Asthma sufferers don't react negatively in salt water pools like they do to the heavy packaged chlorinated water.
TIDBIT: Over 80% of all pools in Australia are salt water and that's where salt water pools began in the 1960's. It took longer to become viable in the U.S., but by the year 2007, salt water pools accounted for nearly three-quarters of new pool installations, up from about 15 percent in 2002. There are about 1.3 million salt water pools in the U.S. today. (Sources: P.K. Data; Pool & Spa News 3/30/08)
Celebrity's  Jessica Alba and Courtney Cox talked about their salt water pools in separate interviews  which lends to the realization that this once trend would finally reach the masses. These two celebrity interviews show the concern many people have with the environment and their family's personal health.  If either of those issues are important to you then it seems natural to use salt over harsh packaged chemicals.
What are some of the con's of salt water pools before you make the change?
Initially it will cost more to upgrade or build a salt water pool but long-term (and that is what a swimming pool offers, long-term benefits) the salt water pool saves you money, time and energy.
Salt is corrosive, especially if  total Alkalinity and pH are not balanced correctly and maintained properly.
Salt pools generate chlorine for sanitation, so the pool is not chlorine chemical free.
Salt pools get their chlorine residual by means of "chlorine generators" (electrolysis devices) that use electricity to produce chlorine from salt (sodium chloride) dissolved in the pool water. Chlorine in the water—whether added this way or by EPA-registered pool sanitizer–destroys many common waterborne pathogens within seconds, helping to keep swimming healthy. Without pool water sanitizers, swimmers are vulnerable to contracting diarrhea, swimmer's ear and skin infections. (Water Quality and Health Council)
Maintenance is still a necessary task for pool owners, but it just got easier!
HealthyPools.org is offering a set of free strips that will measure your pools PH level. Just click the link to get your Free Test Strips and see where you stand in the region you live: http://www.healthypools.org/freeteststrips/
If you would like to convert your current chlorine based swimming pool to a salt water pool, Aqua Fun Inc. is your salt water pool specialist in North Georgia. Are you planning a new swimming pool build? Let Aqua Fun Inc. consult you and show you the best options for your new swimming pool. Call today to schedule your no obligation consultation (770) 419-7119 or schedule your appointment online here.
Follow us on facebook for more Aqua Fun news and specials.