Monthly Archives:
February 2014
The  2014 Snow Storm in Atlanta not a good day for swimming
We found some intriguing online swimming pool photos of the January 28th 2014 snow storm that you may enjoy. This historical snow storm left Atlanta paralyzed but as you can see it was not all bad. We must have a member of the Polar Bear Club in Atlanta,poised and ready to take the frigid plunge…look closer though…this pool has a winter cover.
Did you have time to prepare your pool for the snow and freezing temperatures? For the most part, this storm was not expected. Did you officially Winterize your pool or did you wing it this winter? We would like to know, feel free to leave us a comment below.
Inground Swimming pool covered or uncovered for winter?
Did you ever get the chance to lower the water level and drain those pipes?
If not, were you at least able to run the pump over night so it would not freeze?
Our professional team at Aqua Fun Inc. is here to help if your pool was affected by the storm.
If you did not cover your pool this winter then you may want to consider balancing the pool's chemicals, definitely clean out the pool of any debris and keep an eye on the pump and mechanics of the pool.
Don't have time or don't feel comfortable doing this yourself?  Give us a call at (770) 419- 7119 or schedule an appointment here.
Thank you,
Andrew and Rachel Cook
Owners of Aqua Fun Inc.
(770) 419-7119
Add a spa to your inground pool design
Are you already an inground swimming pool owner? Still looking for that perfect Valentine's Day gift?
Increase the value of your home
Increase your health
Increase the fun in your life
Mark Twain said this after visiting a hot tub in Baden-Baden, Germany:
"After 10 minutes you forget the time. After 20 minutes you forget the world."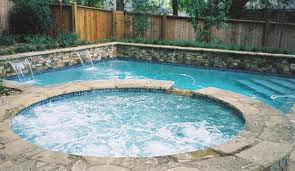 Thinking about a new swimming pool that will be ready by this spring and summer? Design it with a built-in spa and use your backyard all year round. Schedule your free consultation – click here
Physical and Emotional Benefits of built-in hot Spa
stress relief

better sleep
joint pain
blood pressure
fibromyalgia
chronic pain
back pain
cardiovascular improvements – Soaking in a spa simulates exercise. It increases the heart rate, yet it doesn't increase blood pressure. In fact, study participants who relaxed in spas had a decrease in blood pressure, while participants who exercised on bicycles experienced in increase in blood pressure. The regular use of spas and hot tubs gives you some of the same health benefits of exercise but with less heart stress – * Mayo Clinic: Mayo Clinic Ok's Spas for Heart Patients
Not a fad!
According to wikipedia*,  the healing benefits of hydrotherapy have been known to many of the world's great cultures, with a history that dates back thousands of years. Egyptians bathed in heated waters treated with flowers and herbs, while the Greeks believed that water therapy was essential to optimal health. In India, hydrotherapy was essential to well-being, with treatments that included inhaling steam to optimize the respiratory system.
Have fun!
Photo Courtesy of Hornung, on Flickr
Hopefully we proved why you ought to have an inground swimming pool with a built-in spa. Our last blog post about 6 more weeks of winter explains more about why NOW is a perfect time to schedule your free consultation- check it out here. You can build a brand new pool and spa or simply reconstruct your current design to add a spa. We are your
Either way Aqua Fun Inc.'s professional team of experienced, licensed & insured pool builders and designers will be happy to meet with you to discuss your inground spa options. Give us a call! (770) 419-7119
Thank you,
Andrew and Rachel Cook
Owners of Aqua Fun Inc.
(770) 419-7119
* http://www.prlog.org/10311491-the-surprising-health-benefits-of-hot-tubs.html
* Cardiovascular responses to immersion in a hot tub in comparison with exercise in male subjects with coronary artery   disease. Allison TG, Miller TD, Squires RW, Gau GT. Mayo Clin Proc. 1993 Jan;68(1):19-25.
  PMID: 8417250 [PubMed - indexed for MEDLINE]
* http://en.wikipedia.org/wiki/Hydrotherapy
Good news for North Georgia neighbors who want to build, repair or replace their inground pools!
The Ground Hog retreated and that means six more weeks of winter.  Now you have six  more weeks to get your Inground Pool  built or repaired, schedule it here.
Take advantage of the down time. In general, the most popular time of the year for us here at Aqua Fun is in the spring and summer months. So we suggest that you, our North Georgia neighbors, plan ahead. Want to swim by April? Request your free quote here. Here are some suggestions that could aid the process of building your new pool and spa. We want to make it as easy as possible for you:
Get Pre-Qualified for financing – click here
If you dream it, research a few things and have an idea before the scheduled appointment.

Here are things to consider:
Gunite or Fiberglass?
Shape – kidney, small, classic rectangle, lap, free form, geometric?
Spa – read more
Lighting
Follow Rachel Cook's board Light the way! Swimming Pools on Pinterest.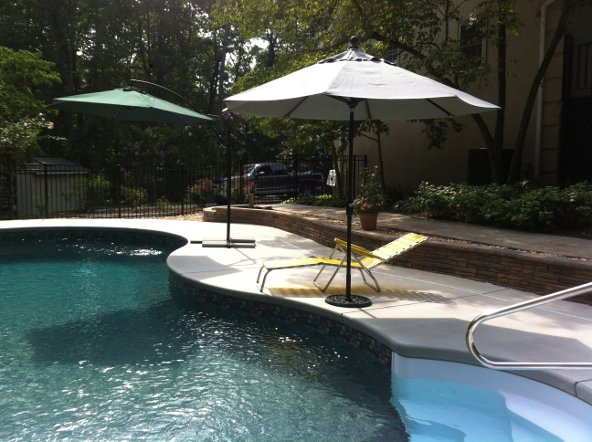 Not sure if you want an Above Ground pool or an Inground Pool? read more
Need Inground Pool Repair, Replacement and/or Renovation to your pool cover, liner, or deck?
Here are a few points to consider when you are deciding on a smaller repair or a full out reconstruction.
storm damage repair
natural wear and tear
Addition of water features such as a waterfall, bubblers, scuppers
Conversion to salt water system – read more
Addition of tanning ledges or swim-up bar features
Liner replacement and interior resurfacing – read more
Thank you,
Andrew and Rachel Cook
Owners of Aqua Fun Inc.
Phone: (770) 419-7119
Ground Hog Photo Courtesy of Blogger Heather Sanders