Enjoy recreational activities in your backyard swimming pool!
We've already talked to you about add-on's for your existing swimming pool or new pool design in past blog posts – under water illumination, vinyl pool liner replacements & spa. Much of those add-on's are geared towards luxury and comfort. This blog post is all about activity through recreational add-on's.
We recommend adding a Waterslide, Diving Board or Splash Pad
Fun Water Activities,  Backyard Cool!
Many of today's kids are missing out on fun outdoor activities we all used to enjoy. There are so many pressures for modern day parents that it becomes easier to keep the kids safely indoors. It's hard to find the time for the family to workout, so building a recreational add-on in your own backyard could become a significant life improvement for your entire family.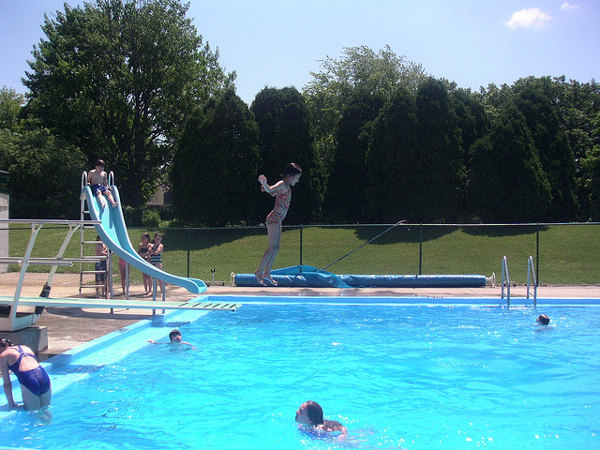 Whether you already have a swimming pool or are about to have us build your new pool, we can offer suggestions that will make your backyard space an oasis of tranquility and fun retreat all in one.
Waterslide
We think a waterslide is the ultimate recreational ad-on for your backyard swimming pool because it gives you a feeling of having a water park in your own backyard. The modern swimming pool slides we install come in an assortment of sizes and styles. The kind of slide you pick will depend on the type of swimming pool you already have or are building as well as the amount of space and personal preference you desire. We wonder sometimes, if the kind of slide some people pick match their personalities? Want to play it safe? Let us know you'd like a  a gentle curve at the bottom instead of a straight and sudden drop into the swimming pool. Need more adventure? Have us install  spiral corkscrew slide. Either way, we know for sure your life will instantly become more exciting!  Do you already have a pool design with rocks and landscaping? No worries, we can probably upgrade.
Diving Board

Diving boards are iconic. How many diving board photos with movie stars or cute little kids have you admired? Adding a diving board is a classic upgrade that will change the dynamics of your back yard pool in a fun way. Diving boards have changed over the years, so be sure to ask about the different sizes, colors and functionality available for your backyard space.
Splash Pad Video
Thanks to BeachEdgePools in Arizona for putting together this awesome video about Splash Pads.
The video says it all! Splash Pads are fun.
Be on the look out for a future Add-On's blog post covering Custom Entry's, In-Water Benches and Table, Tanning Ledge, Grotto and Swim Up Bar. We recommend leaving these type of add-on's to the professionals to ensure meeting safety and code standards.
All of us here at Aqua Fun Inc would like to thank you for reading our blog! If you know anyone who would like to know more about Recreational Add-On's, then be sure to share this article.
If you need more information on how you can keep your family entertained in the pool, call Aqua Fun Inc. today – (770) 419-7119.
Thank you,
Rachel and Andrew Cook
Owners of Aqua Fun Inc.